The Large Magellanic Cloud
---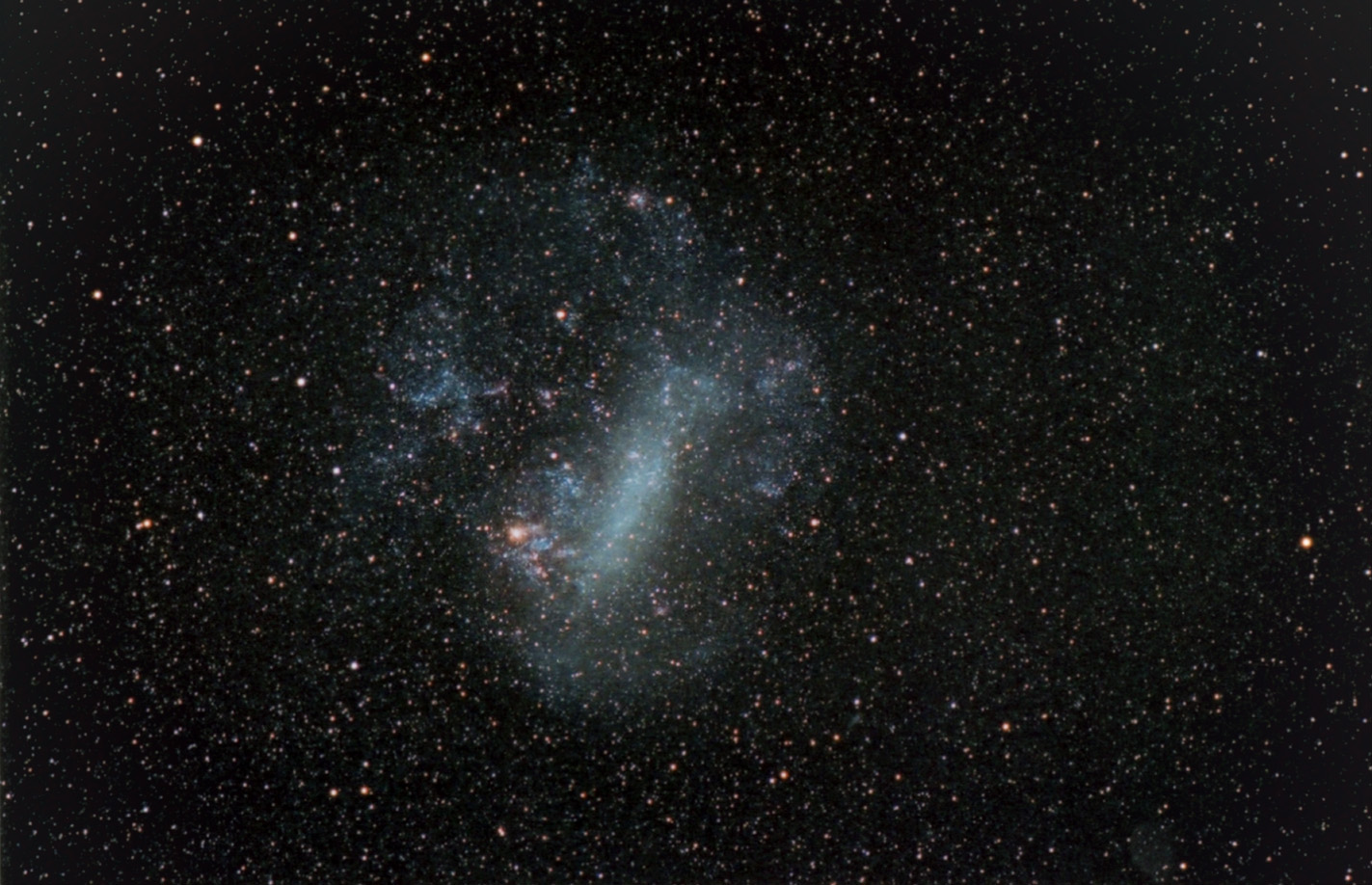 ---
LMC Galaxy
The Large Magellanic Cloud is an irregular dwarf galaxy that is gravitationally bound as a satellite to our Milky Way Galaxy. The Large Magellanic Cloud, or LMC, is part of the Local Group that includes the Andromeda Galaxy, M33, M110, M32, and the Small Magellanic Cloud. The LMC is about 150,000 light-years away. This nearby galaxy is visible to the naked eye. It is located close to the south celestial pole, and is thus only visible from the sourthern hemisphere. This region of the sky also boasts one of the finest globular star clusters, i.e., the magnificent 47 Tucanae globular cluster located 2-1/2 degrees west of the SMC. The LMC was discovered by Portuguese seamen who sailed into the southern hemisphere in the 15th century, and was named in honor of Ferdinand Magellan.
The LMC has an enormous emission nebula in it known as the Tarantula Nebula. If the Tarantula Nebula was located in our own galaxy and was as close to us as the Orion Nebula, it would cover a significant portion of the night sky. Even though this nebula is located 150,000 light-years away in the LMC, it is a spectacular object to view through an amateur telescope. The LMC also contains supergiant stars, globular clusters, nebulae, open star clusters, and is a treasure trove of splendid objects for a telescope. In 1987, a supernova exploded in the LMC, and provided an excellent opportunity to study that aspect of stellar evolution with modern telescopic equipment.
This image was taken with a Canon EOS Digital Rebel SLR camera using a 35mm lens.
LMC
Constellation: Dorado
RA: 05h 23m 35.7s Dec: -69d 44' 48"
August 31, 2005
Image by Sid Leach
Lake Titicaca, Bolivia
---
Recent Images.
Complete list of images.
Description of equipment used to acquire images.
Home
Feedback and comments should go to Sid